Bodhicharya Marion Kotowski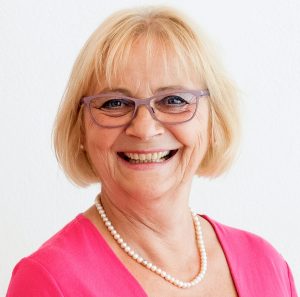 Vita Born 1952 – I became a merchandiser, was working in the parental company and became mother. Later I studied philosophy, educational science and modern philology.
40 years ago I became the disciple of the indian master OSHO.
Trainings in pre- perinatal and birth-therapy with Raymond Castellino, Mary Jackson, Tara Blasco & William Emerson, embryology with Jaap van der Wal, methods of trauma resolution with Peter Levine (Somatic-Experiencing®) & Robert McDonalds (NLP), numerous Master courses in Somatic-Experiencing with trainings in specific areas (victim-perpetrator dynamics, attachment theory, close death experience, sexual trauma, trauma syndroms, severe personality disorders, auto-immune diseases) with Peter Levine, Steven Hoskinson, Diane Pool-Heller, Lawrence Heller, early developmental trauma, couple and relationship councelling, co-dependeny, abuse, addiction, inner child work, (Learning Love: Krishnananda-Dr. Trobe, Prabha Bell, Vasumati Hancock) Cranio-sacral work, meditation teacher, Aura-Soma, biodynamic bodywork according to Gerda Boyesen, massage, theater, dance, shamanism, NLP (Robert Dilts amongst others), Diamond Logos Essence-training with Faisal Muqaddam, gems-therapie, Gestalt- and Psychodrama with Hilarion Petzhold.
Assistences in the past years: Workshop/seminar assistences in pre- & postnatal & birth therapy with Raymond Castellino. Assistances in basic and post-advanced trainings in the trauma resolution method Somatic-Experiencing® with Lawrence Heller (NARM), Diane Pool-Heller (DARe) and Raja Selvam. Assistences in Diamond Logos Essence work with Turiya & Vasumati, Learning Love Assistences in trainings with Krishnananda Trobe.
Co-founder and collaboration of humanistic projects in the area of educational science, professional associations or newspapers. Artist with exibitions in the area of painting, photography, jewlery design or sculptures.
Many years of experience working in different areas of the UN, European Union & economy.
My emphasis is working with awareness in a respectful and non-judgemental way, opening space for healing, integration, self-empowerment, the unfolding of potential and transforming deep wounds. The connection with inner strength and healthy boundaries will be re-established, release of bound shock and stress energy in the nervous system is being supported and the return to vital life energy enabled. Further focus is couple and family dynamics and spirituality.
It's never too late for a happy childhood (author unknown)